Original March 30, 2017 announcement
Virgin Australia is joining the 2Ku revolution to provide the fastest in-flight connectivity in the skies with Gogo.  Welcome to the family!  By using Australia's largest satellite provider Optus Satellite for domestic and New Zealand services and Intelsat and SES for all other international flights, Gogo is able to leverage both the open architecture of the system as well as the redundancy of Ku-band services to ensure seamless coverage for all flight paths.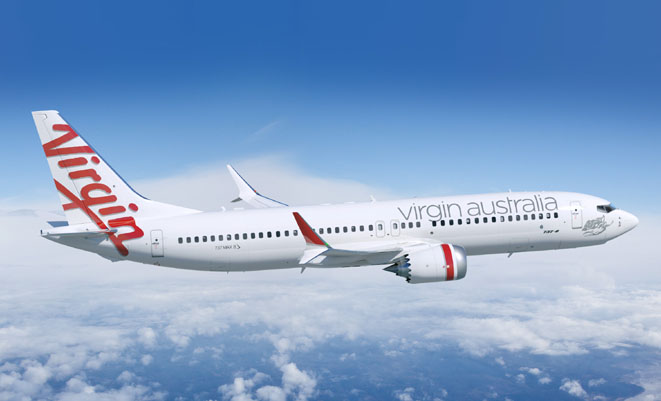 In an article published directly on the airline's website, customer testing of the service using Gogo's 2Ku technology (utilizing ThinKom's ThinAir Falcon-Ku3030) on a Boeing 737-800 aircraft is to begin in April with a full roll out of Wi-Fi across Virgin Australia's fleet of Boeing 737-800, Airbus A330 and Boeing 777 is planned following that customer testing period.
From John Thomas, Group Executive Virgin Australia Airlines: "We are confident that by working with Gogo and Optus Satellite and using their proven technology we can deliver the best possible and most reliable connectivity and entertainment experience in the air.  Virgin Australia guests will soon be able to stay connected with their family, friends and colleagues on board while also enjoying the fantastic entertainment offered by Netflix, Stan and Pandora. Inflight wi-fi also presents exciting opportunities for our team to deliver even more of the great customer service for which they are famous…"
Original press release can be found on PRNewswire.
August 10, 2017 Update
After the conclusion of the three-month trial period, some insight into passenger usage has been revealed.  Boeing 737 aircraft saw "77 per cent of guests report a high level of satisfaction with the inflight Wi-Fi. The trial found that 49% of passengers checked email, 43% checked social media, 31% read the news, 27% sent text messages and 19% watched Netflix."
Following the successful trial on a Boeing 737, the airline will now roll-out in-flight Wi-Fi to its Boeing 737 aircraft, with Boeing 777 aircraft to commence in October.  The airline expects to have in-flight Wi-Fi on all Boeing 777 aircraft and the majority of Boeing 737 aircraft by the end of 2018, with the Airbus A330 aircraft due for completion by the second half of 2019.  According to the article the airline "will see more than 90% of Virgin Australia's fleet fitted with this technology.
Read the full article at GetConnected.